Prof. Gajendra Sarpate accepting appreciation certificate by Collector & District Magistrate, Wardha. Government Of Maharashtra.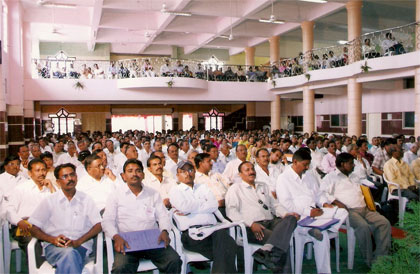 Prof. Gajendra Sarpate addressing all secondary and higher secondary head master at dist. Yavatmal. Feb- 2010
Addressing Teachers & Principles
Dignatory on dias to present the Hon'ble chief guest shri Laxmikant Pande sir(Dy.Director Education division,Amravati)shri V.P.Patil sir(E.O.)and other dignatories,prof. Gajendra Sarpate to give the guid line about Emotional,Educational development of teen age student,at dist Yavatmal Feb-2010
This orgnization was established in 2009 but this centre has been working since 2007. This orgnization has been working on psychoanalytical observational studies, emotional and educational development for teen age children, parents, young people and adult by using psychoanalytic psychotherapy for human development.
Prof. Adv. Gajendra Sarpate
Founder and President Of This Organization . He is working like a legal advisor and counsellor.
"Begin your journey to a better life with peace, love, and happiness"
To know more about GPTRC you can contact us through these modes.